E2 – Multiplier event in Spain
The E3D+VET Multiplier Event in Spain took place on the 10th of October, 2019. It was held in Yecla at the premises of CETEM. An exhibition of the different 3d printed exercises was performed with the aim of allow the attendees to touch and play with the printed models. Furthermore, a demonstration of 3D printing was running during the event.  
Teachers from Murcia Region and neighbours' regions were invited to the event. The event was conducted by CETEM with the support of other partners such as PRISTALICA and KIT. Moreover, the event was opened by Juan Vicente Carrillo from the ministry of VET from Murcia Region.
The event covered all the intellectual outputs developed at that stage with special focus on the training materials for teachers, the methodology to create new exercises and the web platform containing already existing exercises.  All the exercises were explained, trying to engage teachers from different subjects.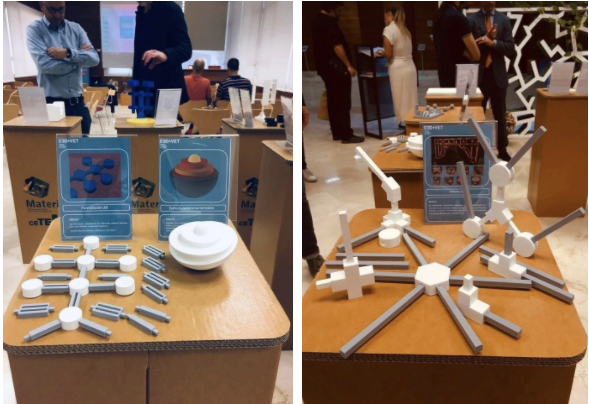 At the networking cocktail, the team of E3D+VET answered questions about the project and other issues related with 3D printing. The teachers showed their interest in the project and the usefulness of having models integrated in exercises. Some of the comments were:
"It is very interesting the dissemination in one platform of all the exercises developed in this project and the content created to be used by teachers."
"Normal 3D printing training provides to the teachers about numerous tools with no practical application. Usually 3D printing kits come with a few examples but once the teacher has finished those examples doesn't know how to continue and stop working with the technology and get blocked."
"Not only you have developed a product, but also the product itself tells to the teacher how to use it through different tools. It is very important to achieve that the teachers use the platform and make it grow by sharing their exercises. It definitively will be the key of the success of this tool."
"The most difficult moments in 3D printing are when you are alone, get blocked and don't know how to continue. I believe that this platform and the list of providers of 3d printing will be very useful to solve those situations". 
A video of the event can be shown in the following link.