E3 – Multiplier event in Slovenia
The E3D+VET Multiplier Event in Slovenia took place on the 10th of December, 2019. It was held in Maribor at the premises of the Secondary School of Design.
Teachers and professors from a variety of institutes, stakeholders, SMEs and providers from the 3D printing field were invited to attend. Moreover, experts were invited to speak and to give their point of view.
The objectives of the event were:
To inform attendants and introduce them to the E3D+VET project and results produced within the Intellectual Outputs;
To give a national point of view on 3D printing technology, its status and its involvement in the Slovenian educational system;
To give a practical point in the form of a workshop of view on the usage of 3D printing technology, its phases, printers and materials.

In particular, the event was enriched with the contributions and presentations of representatives from the following organizations, each of them delivering their point of view on 3D printing and its involvement in the national education system and in the job market:
Center of the Republic of Slovenia for Vocational Education;
Institute of the Republic of Slovenia for Employment;
CITILAB (Institute for the development of creative technologies Maribor)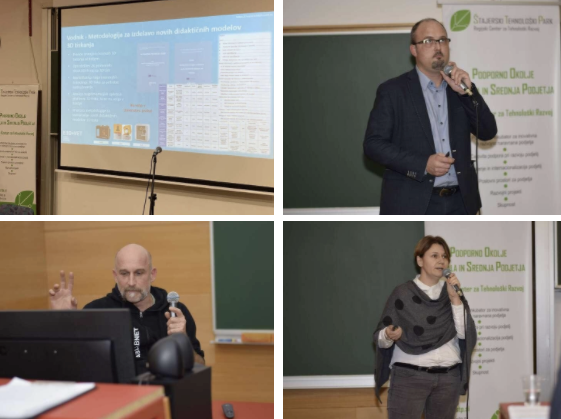 The final part of the event was dedicated to a workshop, where 3D printing cases with different printers, materials and models were presented. Attendants were able to practically see how the 3D printing process is carried out in all of its phases and not only during the mere printing process. The workshop was delivered by STP, with its own Prusa printer, and ROGLAB, who provided more 3D printing equipment.

Attendants were very enthusiastic about the event and especially the presentations from external speakers and the workshop gave an extra added-value to the event, which initiated more interest in the 3D printing field. We believe this will bring to new and more opportunities in the future for Slovenian schools to embrace 3D printing technology in their classrooms and lectures.